HOUSE SYSTEM
To foster espirit-de-corps, fraternity, community living and team work the hostels are divided into variousHouses. At present, boys are accommodated into four houses i.e. ARJAN, MANEKSHAW, CARIAPPA & KATARI. The Housemasters, assisted by the Wardens, look after the boys and supervise their general health and personal hygiene. The house system provides ample opportunities and hone leadership qualities in the cadets.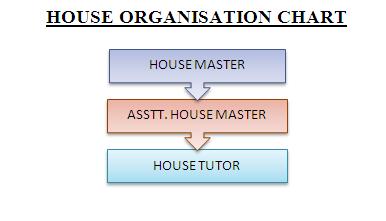 HOUSEMASTERS
| | | | |
| --- | --- | --- | --- |
| | | | |
| | Mr. MANOJ KUMAR TRIPATHI | Mr. PRADEEP KUMAR DANGRE | Mr. RAVINDRA TIWARI |
| | Mr. SHASI KANT | Mr. RAJPUROHITH MADANLAL | Mr. ROUSHAN KUMAR |
| | Mr. RAJ KUMAR | Mr. SHIVESH RAI | Mr. SK PANDEY |
| | Mr. DIPANKAR TIWARI | Mr. MSN RAJU | Mr. PRAKASH TIWARI |
| | Mr. AKHTAR RAZA KHAN | Mr. SOURABH K JAIN | Mr. AMRESH MANI TRIPATHI |
| | Mr. MANISH KUMAR RAJAK | Mr. KPC RAMBABU | Mr. TS RAO |
| | Mr. TVN MALLESWAR RAO | Mr. ASHISH TIWARI | Mr. SUDHIR KUMAR |
| | Mrs. NIDHI LAL DAS | Mr. SUNIL KUMAR DUBEY | Mr. RAJESH KUMAR |
| | Mrs. DEEPSHIKHA KUJUR | Mrs. MADHU GUPTA | Mrs. BHAWNA |
MESSING
The School has well laid out dining halls where all the students eat together. The cooking arrangements are supervised by a well qualified staff. There is a Mess Committee consisting of the Registrar as Chairman and representative of the staff and students as members. It meets frequently to suggest the menu and discuss other catering matters. Both vegetarian and non-vegetarian meals are provided. Teachers and other authorized staff dine in the Mess along with the cadets.
MEDICAL FACILITIES
The School has a Sickbay looked after by a qualified Nursing Assistant and a Hospital Attendant. An Ambulance is available to take cadets to the District hospital for treatment, if the need arises. Parents are informed immediately of any serious case. The district administration has also deputed a qualified doctor, who frequently visits to check up the cadets and monitor their general health/growth.